Multiple Ways We Can Work Together
Our no-drama design plans makes it simple and easy.
Pick from our Interior Design Service Room Makeover
Plans starting at $699.
Get expert help with your design project. 
For areas up to 300 sq. ft.
• In-Home or Virtual Interior Design Services
• Floor Plan & Mood Board
• Click n' Buy Shopping List
• Reveal Call
• Follow-Up Call
Double the design, double the impact.
For areas up to 600 sq. ft.
• In-Home or Virtual Interior Design Services
• Floor Plans & Mood Boards
• Click n' Buy Shopping List
• Reveal Call
• Follow-Up Call
For a space you'll be proud to come home to. 
For areas up to 900 sq. ft.
• In-Home or Virtual Interior Design Services
• Floor Plan & Mood Board
• Click n' Buy Shopping List
• Reveal Call
• Follow-Up Call
We take it from idea to installation. 
Transform a few rooms or your entire home!
• In-Home or Virtual Interior Design Services
• Comprehensive Design
• Handyman/Assembly Services
• Designer Managed Installation
• The Big Reveal
Get more rooms? More questions? 
Tailor our plans to your project.
• Extra Rooms or Design Time
• Handyman/Assembly Services
• Click n' Buy Furnishings
• Gallery Wall Design
Brainstorm session with a pro – then DIY.
We can help with a variety of projects.
• In-Home or Virtual Interior Design Services
• Choose Paint Colors
• Accessorize Your Space
• Create Floor Plans and Layout
• Plan Your Next Renovation
In-person or virtual

interior design

services
Serving clients across the USA and Internationally.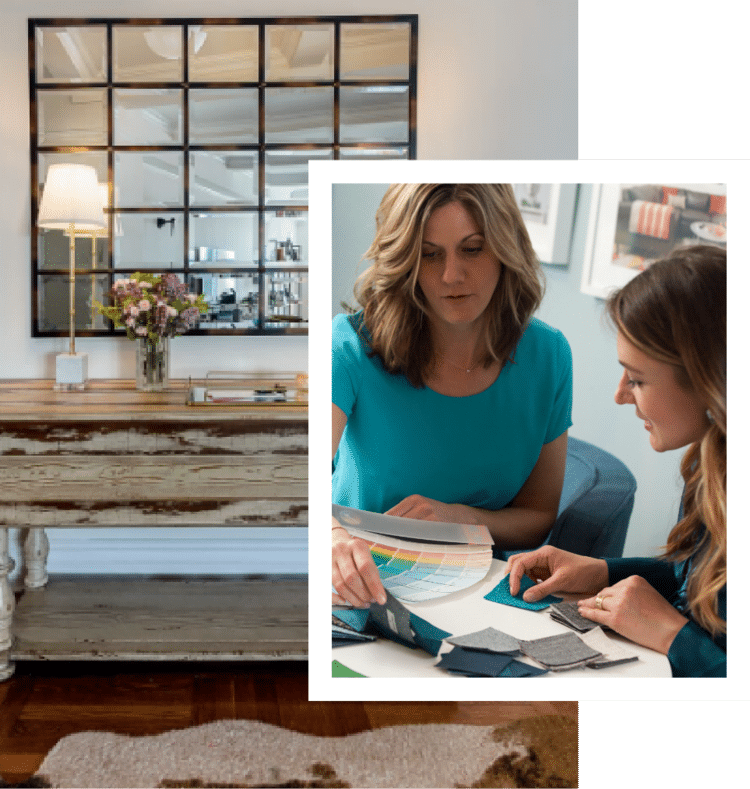 Work with our award-winning firm to create cohesive, functional designs that you'll fall in love with.
Proudly serving clients virtually across the globe!
In-person interior design services are available at the following locations:  
New York
New Jersey
Connecticut
Washington D.C.
3 steps and 2 weeks
to design a space that you love!
Discover your design style and plan with your designer. In-person or virtually, create a new floor plan, make a list of furniture pieces needed, and begin your transformation.
Two weeks later, after doing the research and legwork for you, we reveal a complete design roadmap including a mood board, floor plan, and shopping list.
Click and buy, and watch the pieces arrive! Share progress with your designer during a "Follow-Up Call". Celebrate your redesign with friends & family!
Happy
Clients,

Gorgeous

Homes
"Affordable Interior Design helped me take the things I already had, add to them, and transform my home. Their professional eye brought my home together from the living room to the kitchen to the bathroom, all on a tight budget! The extra step to use their Virtual Plan saved me countless steps roaming aimlessly around furniture and paint stores. I will continue to use them for all my projects, big and small."
"I've worked with Affordable Interior Design on several different projects for my house now over the past 8 years, all as virtual consults. I absolutely love working with them and have learned so much from the multiple experiences, the most important lesson being - don't question their guidance! They never make you feel like you can't afford to have a great-looking room, uncomfortable about the budget, or intimidated about the process. I think that's one of the best things about working with Betsy and her team. They make good design accessible."
"This was my first time collaborating with an interior designer and I had the most amazing experience working with them. Like most people, I wondered if I could afford an interior designer and worried that any recommended items would be well outside my price range. To my absolute surprise, not only did my interior designer shop at a variety of places, but they were also all extremely affordable and within my budget. My designer leveraged her impeccable taste and skills to design three individual rooms in my home. The provided mood boards spoke to my personal style while pushing my imagination in ways I never would have imagined. She understood me in a way only a friend who has known you for years would. A true professional!"
"I am very happy with my decision to use Affordable Interior Design. My designer was very creative, professional, and helpful throughout the process. When she visited my place, we decided on a design together, in an efficient process, where she was able to translate my needs and preferences to interior design decisions and furniture choices. After two weeks, she assembled a furniture shopping list, within the budget I requested. I purchased all items she suggested. The furniture items were sourced from many furniture stores and I felt she did an excellent job finding items that were beautiful, fit the overall design, and were reasonably priced. I get nothing but compliments about my place."
Frequently Asked

Questions