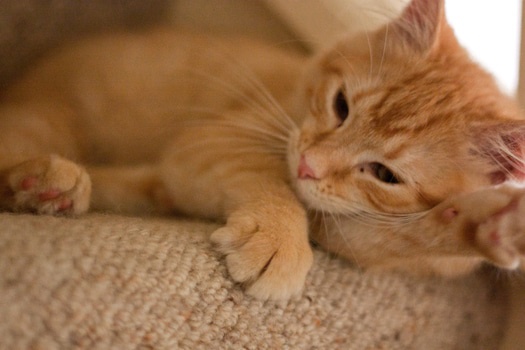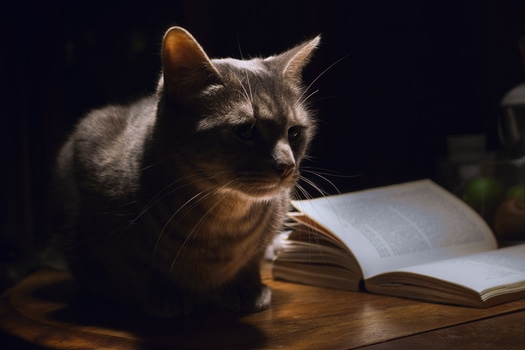 Let's face it. As cute and cuddly as they are, pets can be problematic for your décor. Good thing I have some ideas to help you have your pet and your style too. Bear in mind that not all solutions work with every pet, so you might need to try out a couple different ones to see what works best with your furry friend.
Problem #1: Keeping pets off the furniture. To keep pets off the couch or any piece of furniture you want to yourself, try spraying it with Keep Off pet repellent. Keep Off is essentially a pheromone spray. It has a strong initial smell, which dissipates fairly quickly, but your pet will remember it was there and won't be attracted to that piece of furniture anymore. I recommend testing a small spot on the bottom of the furniture first to make sure it doesn't leave a stain.
Also, if you have a dining table or coffee table that you want to keep free from pets, try covering the perimeter with packing tape. When your pet jumps on, she'll get a sticky surprise, and you can be pretty sure she won't try that again. This works best with a glass surface or a counter top. Others have found success using the same technique but with aluminum foil; something about the crinkliness makes for a less-than-pleasant experience for your pet.
Problem #2: Shedding. Most cats and dogs shed, so I recommend getting low-pile rugs, i.e. nothing too shabby or textured and under half an inch high. This way, if hair gets on it, it doesn't get stuck in it. The same is true for upholstery. Avoid anything too nubby, unless you want to spend your evenings picking fur out of your sofa. The smoother the texture, the better. Leather and microfiber are good options since they're so easy to wipe off. Also, if you have a pet with very dark or very light fur, you probably want to avoid furniture in contrasting hues, because the fur will be that much more obvious.
Problem #3: Scratching the furniture. To save your furniture from pet scratches, it's often worth turning to the source of the problem – the nails themselves. I believe that declawing a cat is inhumane, but you can adopt one that has already been declawed. Otherwise, many of my clients give their pets a monthly manicure, trimming their nails down to a safer length. You can also buy nail caps from the vet or at the pet store to cover your pet's nails.
Problem #4: Chewing up the décor. When I first brought home my dog, he would chew up all of my throw pillows. It was so frustrating! Eventually a friend pointed out how similar in color they were to his chew toys and that he was probably confused about what he could play with. After that, I only bought chew toys that were brown, looked like food, or were very different in color from my décor, and that totally did the trick.
Problem #5: Bodily functions. There's no way around this one; accidents are bound to happen. Luckily, there are a number of preventive measures you can take to minimize the damage.
Select stain-resistant fabrics. I'm not a huge fan of Scotchgard, because who knows what kind of negative health effects it could have, so instead I select fabrics that repel stains. You're not limited to microfiber or leather; there are tons of good options. I recommend asking the stores where you like to shop what they recommend to suit your needs. West Elm, for example, has a line of "performance fabrics" that are stain-resistant and really easy to clean.
Consider indoor/outdoor rugs. These are super durable and easy to care for; they'll stand up to the toughest scrubbing and you can even hose them down. To make sure it feels plush, pick a rug that has polyester as its main fiber rather than polypropylene and has a pile height of ½".
Buy Flor carpet tiles. Flor.com sells carpet tiles that stick to each other not to the floor. With carpet tiles, even if the worst happens, it's no big deal. You just pop out the affected tile and pop in a new one. You can even send the damaged tiles back to the company for recycling.
Protect your mattress. I used to have a cat who would pee on my bed whenever she was mad at me. Talk about temperamental! Protect your mattress from "accidents" by always using a mattress cover. I like the ones at Overstock.com best, but wherever you get it, make sure it has the rubber backing underneath.
Skip the litter box furniture. I don't recommend litter box furniture since there aren't very attractive options on the market today, plus it requires keeping the litter box in the living room. I much prefer having it in the bathroom, so we all go in the same place.
Your pet may rule the roost, but that doesn't mean you have to compromise your design style. With a little training and some smart fabric choices, your pet problems will be a thing of the past.
© Affordable Interior Design